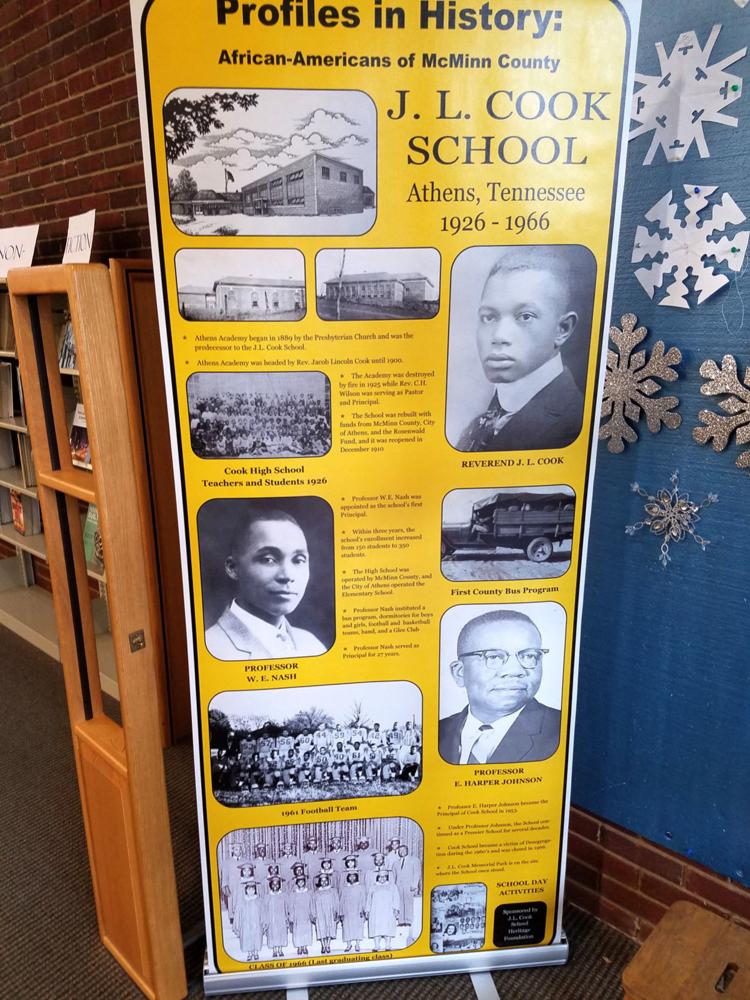 An upcoming lecture series by E.G. Fisher Public Library will encompass two upcoming commemorations.
The library will present the sixth annual Professor W.E. Nash & Principal E. Harper Johnson Lecture Series beginning on Tuesday, Feb. 4 at 12 p.m.
Along with February being Black History Month, this year is the 100th annual celebration of the passage of the 19th Amendment and, as a result, some of the lecture series will include discussion of women and women's suffrage.
"We are taking a focus toward African-American women and their contribution toward the right to vote," said E.G. Fisher Library Director Katie Brady.
The lecture series will begin with "African American Historiography: A Look at the History of African American History," a presentation led by Brady, on Feb. 4 in the community room in E.G. Fisher Library at noon.
"It's a great way to celebrate local black heroes," said Brady. "The Books and Beans Book Club is dedicated toward African women's right to vote. It had extra layers and is fascinating to me."
Local community advocate Wayne Williams, who is an organizer in the series, credits Dr. Martin Luther King Jr.'s quote — "People fail to get along because they fear each other; they fear each other because they don't know each other; they don't know each other because they have not communicated with each other." — as to why this series is so important.
"Once a week there will be a program provided to give insight to the African-American community lifestyle and culture," Williams said. "It's good for the whole community. Over the years we have had series about our African American church worship, folk songs and African-American food."
The lecture series is open to everyone in the community and completely free to the public.
"It gives the opportunity for both communities to come together and have the chance to be educated to be able to understand the African American culture," noted Williams.
"It's important that we continue to keep knowing each other and knowing the value the history brings to the present and future generations."
The library will also be host to two exhibits throughout the month.
The full lecture series will include the following programs:
• "African American Historiography: A look at the History of African American History" on Tuesday, Feb. 4 at noon.
Library Director Katie Brady explores the origins and development of the study of African-American history over time.
• City-wide Black History Month fact find on Monday, Feb. 14 available between 10 a.m. and 7 p.m. where participants can explore local African-American history with a city-wide fact find. Fact find questions and guide map can be picked up at the library. Suggested for ages 5 and up.
• Noon Book Discussion on Tuesday, Feb.18 at noon
Participants can join Janice Hardaway for a discussion of "African American Women in the Struggle for the Vote 1850-1920" by Rosalyn Terborg-Penn. Book is available for checkout at the library.
• Votes for Women: The African American Experience with University of Tennessee at Chattanooga's Dr. Michelle Deardorff on Tuesday, Feb. 25 at 2 p.m.
This talk will be a retelling of collective history with its deep implications for the present, presented by Deardorff.
• Books and Beans Club located at The Beanery Uncorked on Saturday, Feb. 29 at 3 p.m.
Enjoy a coffee and a discussion of African American Women and the Vote 1837 to 1965 with discussion led by Anita Scruggs and Marla Cobb.