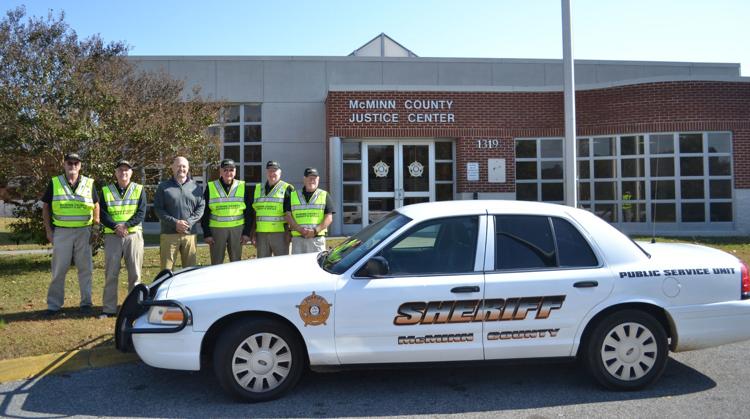 A new unit of volunteers are on patrol in the streets of McMinn County.
The McMinn County Sheriff's Department's Public Service Unit (PSU) is currently made up of five men who are volunteering their time to assist law enforcement.
The PSU began in June as an offspring of the sheriff's department's Ham Radio Watch.
"Monroe County has this type of public service unit and other departments do across the state and we thought it was a good idea," McMinn County Sheriff Joe Guy said. "Picking the right personnel is always critical."
That led Guy to Cliff Blackburn, Dale Williams, Gary Eiff, Bill Luecken and Chris Nunley — all fellow members of the local Ham Radio Club.
"The more I've gotten involved with Ham Radio, the more I realize the service minded mentality in Ham Radio," Guy said, adding that members of the Ham Radio Club are already experienced in emergency response communications. "They're already schooled in working with the public."
The PSU members are tasked with handling non-law enforcement work — including funeral processions, traffic control, safety checks on citizens and buildings and generally being the "eyes and ears" for the sheriff's department.
While the members of the PSU are deputized as reserve/auxiliary officers, they don't get involved in making arrests, chasing suspects or activities of that nature.
"They've assisted us on some scenes," Guy said. "They've proven themselves very useful and successful."
Guy said having assistance with the types of activities carried out by the PSU helps his officers deal with other situations.
"When they're on duty, it frees up at least one patrol car and deputy," Guy said. "It puts more manpower toward answering calls and doing law enforcement duties."
Deputy Brian Alexander noted that he and other officers notice the help provided by the PSU.
"We really appreciate their help," he said. "It relieves us to answer calls and makes for a better response time."
Alexander noted that recently there was a call from dispatch involving a gun during a funeral procession.
"If we had two cars tied up on the funeral, we would have had less help out there," he said.
As for the PSU members themselves, they liked the idea as soon as it was pitched to them by the sheriff.
"Initially, I was on board immediately," Blackburn said. "It's another way we can help the community."
Once they got started, though, Blackburn said they realized there was a bit of adjustment to make.
"There was a learning curve for us," Blackburn said, explaining that the sheriff's department uses 10-codes and Ham Radio does not.
Outside of that, however, the mutual interests between the Ham Radio Club members allowed for a smooth transition.
"We're all friends," Nunley said. "With Ham Radio, at the sheriff's department and outside."
Luecken noted that it was the "credibility of Joe" that led to the members signing on so quickly, since Guy is "as involved in the community as he is and has the reputation that he has."
A desire to help out the members of the sheriff's department also played into the members deciding to volunteer, as well, they said.
"We really appreciate what the deputies do," Eiff said. "If there was an opportunity for me to help them and relieve them, I wanted to help."
"If we know they're out there by themselves, we try to go help," Williams added.
"I admire these deputies," Luecken noted. "They're busy — over busy some times — they're very professional officers and I think they do a great job."
All the PSU members noted that the response from the community toward them since they started has stood out to them.
"The response from the community to our presence has been great," Blackburn said. "The support from the community is really special."
In the months since the PSU has been on the road, Guy said he's been impressed with what he's seen.
"We'd like to expand it more," he said, noting that more members and more equipment would both be in the works. "We're going to give them even more equipment. We would welcome donations from local businesses."